Our Hawkes bay branches of RTR Taekwon-Do were formed in 2011. The Instructors are Master and Mrs Rounthwaite.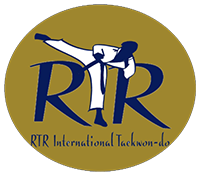 'RTR' stands for 'Rocky' (a Services nickname), and 'Trish'  Rounthwaite – simple, friendly, and names Instructors are well known nationally and internationally.  
RTR Taekwon-Do is a member club of International Taekwon-Do Foundation of New Zealand Inc (ITKD). ITKD is very much a "family" organisation, having grown from a few small clubs in Palmerston North and Wellington in the early 1970s. These clubs produced black belts that in turn started new clubs, and the organisation grew. Today we have around 90 schools nationwide.
International Taekwon-Do was first registered in New Zealand as an Incorporated Society in 1981 and is today recognised as a "National Sporting Organisation" by Sport New Zealand. Each and every year since then International Taekwon-Do has run regional and National Tournaments for its members, as well as hundreds of other events. It is recongnised by the International Taekwon-Do Federation (ITF).
In recent years our competitors have made huge impact on the international tournament scene and were placed first at the ITF World Championships hosted in Wellington, 2011 and again at the ITF World Cup in Sydney 2018.
Find out what the benefits of belonging to International Taekwon-Do are here.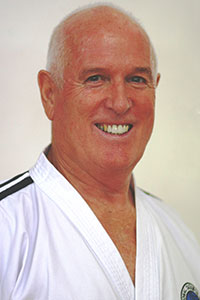 Master Rocky Rounthwaite, 8th dan
Master Rocky Rounthwaite began his training in 1976. On completion of a 4 year stint as an instructor at the NZ Police College, Trentham, he transferred to Auckland, where he opened classes in Pakuranga in 1982.  
A senior Sergeant of Police at the time, in 1991 Master Rounthwaite accepted an adventurous 4 year consultant position that took him to the Highlands of Papua New Guinea where he and his wife Trish, opened Taekwon-Do classes in Mt Hagen.
After a 30 years Police career, Master Rounthwaite retired to the Sunshine Coast, Queensland, Australia where he spent close to a decade as a professional Taekwon-Do Instructor. He accepted a position as Boarding Parent to High School students for 6 years at the American Pacific International School in Chiangmai, Thailand, where Taekwon-Do was taught as an after-school activity.
In 2010 Master Rounthwaite returned to New Zealand where he again became a professional Taekwon-Do Instructor in Hawkes Bay.  He was inducted into the New Zealand Martial Arts Hall of Fame in 2013 and promoted to 8th degree in 2014.  
Mrs Trish Rounthwaite 5th dan
Mrs Trish Rounthwaite began Taekwon-Do training in New Zealand in 1987.  Her 30 years as a professional educator stood her in good stead in becoming an important link in the RTR family, following and RTR ethos "the family that kicks together, sticks together."  She has a special interest in Mini-Kids.

Once graded to black belt, Mrs Rounthwaite attended several International Instructor courses under Taekwon-Do's Founder, General Choi Hong Hi, eventually grading to the rank of 5th degree, was an International Instructor, Examiner, and an International Umpire.

She has officiated at World Championship level, and coached World Championship medalists which include the Canadian based 2004 Woman's World Champion, Carlie Dann (Australia); and 2003 Poland based World Championship Women's Power Breaking medalist, Sylvia Jensen (Australia).

Mrs Rounthwaite has taught Taekwon-Do in New Zealand, Papua New Guinea, Australia, and Thailand.